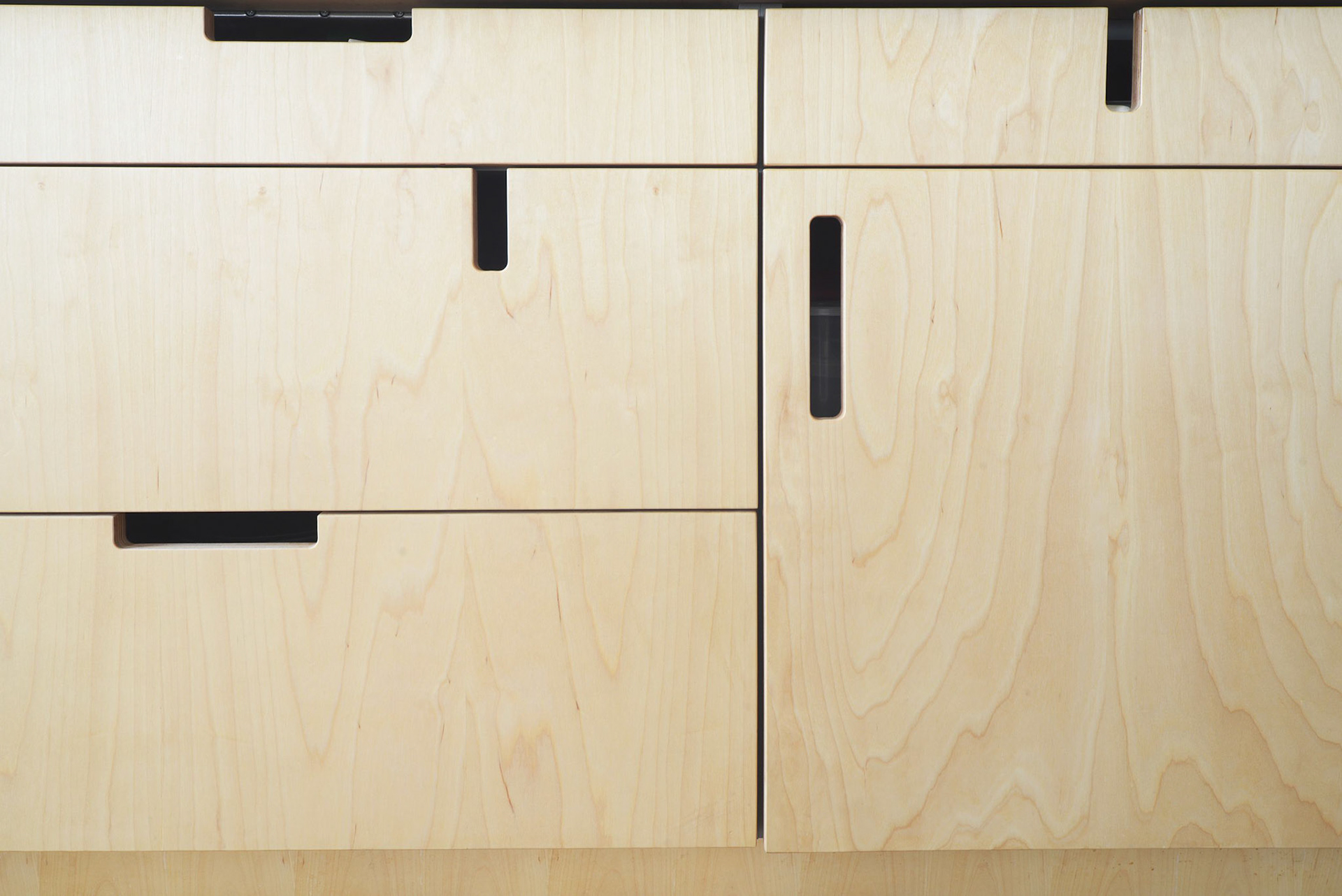 CO:     rekonstrukce/interiér
PRO:     soukromá osoba
KDE:     Znojmo
KDY:     2017
STAV:     realizace
M2:     150
Přistoupíme-li na tezi, že luxus je radostné plýtvání, pak tento byt můžeme nazvat luxusním díky tomu, jak zachází s prostorem. 
Tato vrstva činžáků z 19. století je stále opomíjená, a to zvláště na českém a moravském maloměstě. Přitom je možné několika jednoduchými úpravami vytvořit velkolepé prostorné velkoměstské bydlení. Ve Znojmě jde o oblast celého vídeňského předměstí. Ošuntělé historizující činžáky, které čekají na své objevení, nebo destrukci. 
Byt má dobově typickou dispozici pokojů řazených za sebou s průchody uprostřed sdílených zdí. Pro současný způsob života není dispozice úplně praktická, ale díky enfiládě nabízí silný prostorový zážitek. 
Proto jsme do dispozic prakticky nezasahovali, nechtěli jsme sílu prostoru potlačit. Posunuli jsme jednu stěnu a jednu vystavěli. Nové stěny jsou lehké s dřevěnou konstrukcí obloženou překližkou. Snadno se od zbytku rozeznají. Naše práce byla velmi památkářská - odhalili jsme původní výmalby, rekonstruovali původní dveře a podlahy. Základní rámec byl vytvořený. Do toho umisťujeme nové vestavby kuchyně a koupelen. Snad nejzajímavějším prostorem je trojúhelníková předsíň, kde se kříží několik tras. Tvoříme zde ornament z šestiúhelníkové cementové dlažby.
Mnoho lidí opouští město, aby se stěhovali do hub, které vyrašily na poli za městem, nebo hledají byty v novostavbách. Ty ale nikdy nemohou nabídnout tolik prostoru jako staré činžáky. Tu trochu navíc, která není nutná, ale vytváří krásnou kulisu každodenního života. 
WHAT:     revitalisation/interior
FOR:     private person
WHERE:     Znojmo
WHEN:     2017
STATE:     built
M2:     150
If we accept the notion that luxury is a pleasant way of waste, we can call this flat luxurious in the sense of how its space is made use of. This layer of 19th-century rental houses is still underestimated and often ignored, above all in smaller towns of Bohemia and Moravia, although by applying a few simple adjustments we are able to recreate a magnificent spacious place to live like in a big city. In the small historic city of Znojmo it is the entire former "Vienna Suburb" we are talking about. There are shabby historicizing blocks of flats, rental houses, whose doom is either to be rediscovered, or to be destructed.
The flat has a typical interior layout for its time, the rooms are arranged one after another in line, with doorways in the centre of shared walls, which is not fully practical for today´s way of living but thanks to this enfilade this layout brings in a strong impression of space. That is why we have not practically interfered into this layout as we do not wish to supress this space of power. We have only shifted one wall and built a new one. The new walls are light, of a wooden construction panelled with plywood sheets. They are easy to be recognized from the rest. Our job has been to a great extent one of monument preservation – we have discovered original room decorations, we have reconstructed original doors and floors. The basic framework had already been achieved, we have only added the new built-in kitchen and bathrooms. Perhaps the most interesting room is the triangle hallway, a crossing of a few communications. Here we are creating an ornament using hexagon cement tiles. 
A lot of people tend to leave a city in order to move to mushrooms (as we call suburban houses) which have arisen in fields on the outskirts or they are looking for a flat in newly-built houses. Those, however, can never offer so much space as the old burgher rental houses. A bit more space which is not that necessary but creates a wonderful set piece or coulisse to our everyday life.